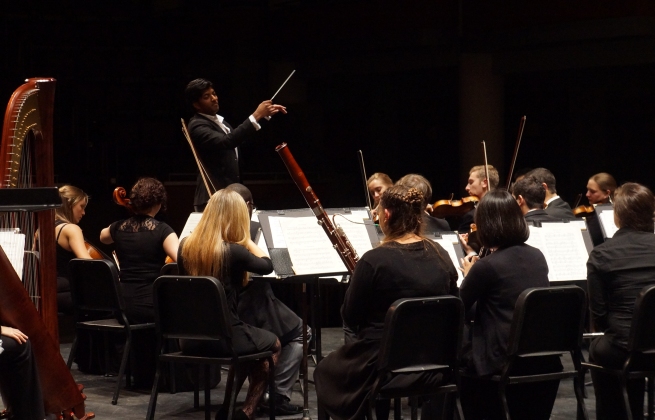 Featuring University of North Carolina Orchestra with guests from Sentinel Secondary School, Handsworth Secondary School and Victoria Conservatory
A Kay Meek Special Presentation
Join us for a FREE concert - an orchestral extravaganza with over 100 musicians!
The UNC Charlotte Orchestra represents the highest-level orchestral performance group at UNC Charlotte. The primary touring ensemble of the Orchestras area, the Orchestra presents music from across the spectrum of the symphonic repertoire, and emphasizes the art and science of group musical interaction. The UNC Charlotte Orchestra is conducted by Dr. Jonathan Govias.
Following on their 2018 residency at Kay Meek Arts Centre, during which they mentored high school ensembles and performed for over one thousand school children, the UNC Charlotte Orchestra returns for a 2019 edition.
PROGRAM
J. Strauss Jr. - Die Fledermaus
Finzi - Romance
Mascall - Nanabush and the Giant Beaver with narrator Chief Janice George
Tchaikovsky - Souvenir de Florence
Bizet - Toreadors; Intermezzo; Farandole
Vaughan Williams - 49th Parallel Overture
Zimmer - Pirates of the Caribbean
TICKET INFO
This is a FREE concert. No ticket required.