Venue Rental
The Kay Meek Arts Centre is available to rent at the beginning October, 2019.
We apologize for any inconvenience during our summer renovations. The centre will reopen in the fall with many upgrades to improve your experience in the venue.
From concerts and conferences to film shoots and recordings, Kay Meek Arts Centre is well equipped to handle a variety of events and performances. Both of our multi-faceted theatre spaces are available for rent, options including: Corporate Receptions, Galas and Fundraisers, Educational/Training Sessions, Business Meetings, Product Launches, Cocktail parties and pre/post performance events.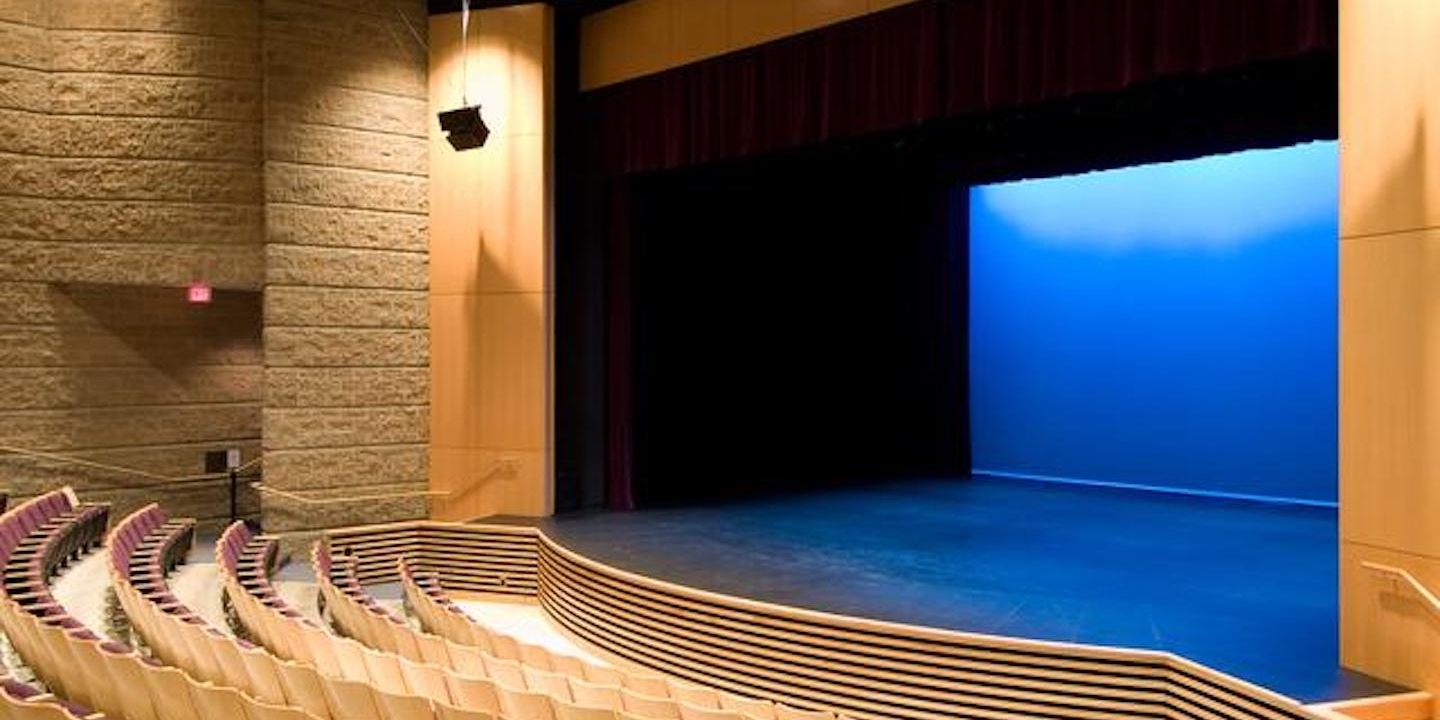 The Grosvenor Theatre is a traditional proscenium arch theatre with continental seating that offers comfort and excellent sightlines. Beautifully finished with blond wood, soft pink brick and rich purple fabrics, the theatre also boasts acoustics that are well suited to the wide range of performances taking place in the venue.
The Grosvenor Theatre at Kay Meek Arts Centre is a state-of-the-art, full service, 488 seat performance facility. The Grosvenor Theatre is available for concerts and other public performances, large meetings and music recording.
The flexible and intimate Studio expands Kay Meek Art Centre's ability to present world-class performances. The Studio is the home for not only local community groups and companies but also for emerging and established North Shore artists, as well as for avant-garde and classical drama, dance productions and small music ensemble performances.
The standard configuration accommodates 148 people. Non-standard options are available.
Request Booking information
Request Booking Information
$

2045
Weekend
(Friday - Sunday)
Second Performance (Same day) $450
Technical Rehearsal $1615
$

1791
Weekday
(Monday - Thursday)
Second Performance (Same day) $450
Technical Rehearsal $1425
$

1228
Weekend
(Friday - Sunday)
Second Performance (Same day) $350
Technical Rehearsal $1003
$

968
Weekday
(Monday - Thursday)
Second Performance (Same day) $350
Technical Rehearsal $816
$

1483
Weekend
(Friday - Sunday)
Second Performance (Same day) $300
Technical Rehearsal $1189
$

1349
Weekday
(Monday - Thursday)
Second Performance (Same day) $300
Technical Rehearsal $1098
$

967
Weekend
(Friday - Sunday)
Second Performance (Same day) $200
Technical Rehearsal $823
$

714
Weekday
(Monday - Thursday)
Second Performance (Same day) $200
Technical Rehearsal $625
$

26 / hour
Front Of House Manager
$

3 / ticket ($2.50 for Nonprofit)
Ticket Handling
$
3 / ticket ($2.50 for Nonprofit)
$

0.20 / ticket
Consignment
$

1.50 / attendee ($1.25 for Nonprofit)
Non-ticketed
$
1.50 / attendee ($1.25 for Nonprofit)
$

300 / day
DPI Highlite Laser G2 DLP
$

150 / day
Panasonic Large Venue DLP
(PTD5600U)
Free
Grosvenor Theatre
Dropdown
Free
Free
Studio Theatre
Dropdown
Free
$

150
Da-Lite Fast Fold
12' x 16'
Stage Risers
Extra Crew Maybe Required
$

15 / unit / day
Wenger Versalite Deck
4' x 8' (9 units)
Extra Crew Maybe Required
$

15 / unit / day
Wenger Versalite Deck
4' x 4' (2 units)
Extra Crew Maybe Required
Choral Risers
Extra Crew Maybe Required
$

15 / unit / day
Wenger Tourmaster 3-Step
6' tall (7 units)
Acoustic Shell
Extra Crew Maybe Required
$

200 / unit / day
Legacy Shell
Tapered Canopy 6' x 15'
Piano
Extra Crew Maybe Required
$

220 / day
Hamburg Steinway
Model D